Educational Toys by Ugears
UGEARS has developed a Mechanical Wooden Construction/Puzzle Kits to help people to understand the principles of mechanics through the self-assembly of motion models. Each of UGEARS Educational Toys models carries its own idea and concept & it doesn't require a glue, battery & power of electricity. It's a natural, made of high quality ecologically clean plywood.
Our models are the original all-occasional gift, fun and smart hobby for kids and grown-ups of all ages. We've employed engineering know-how and production fine-tuning to ensure the assembly of our models is an engaging and rewarding experience for the whole family. We are very serious about the quality of our kits. Apart from meticulous product testing and quality control, we source plywood from responsible and sustainable sources. In addition, while looking for a way to make the assembly experience smooth and enjoyable for our customers, we invented and patented our very own plywood joint design.
"Our mission is to give an unforgettable time of working together on things that are popular for all ages. We want to connect the hearts of parents and kids. And as a result – get a revived mechanical marvel."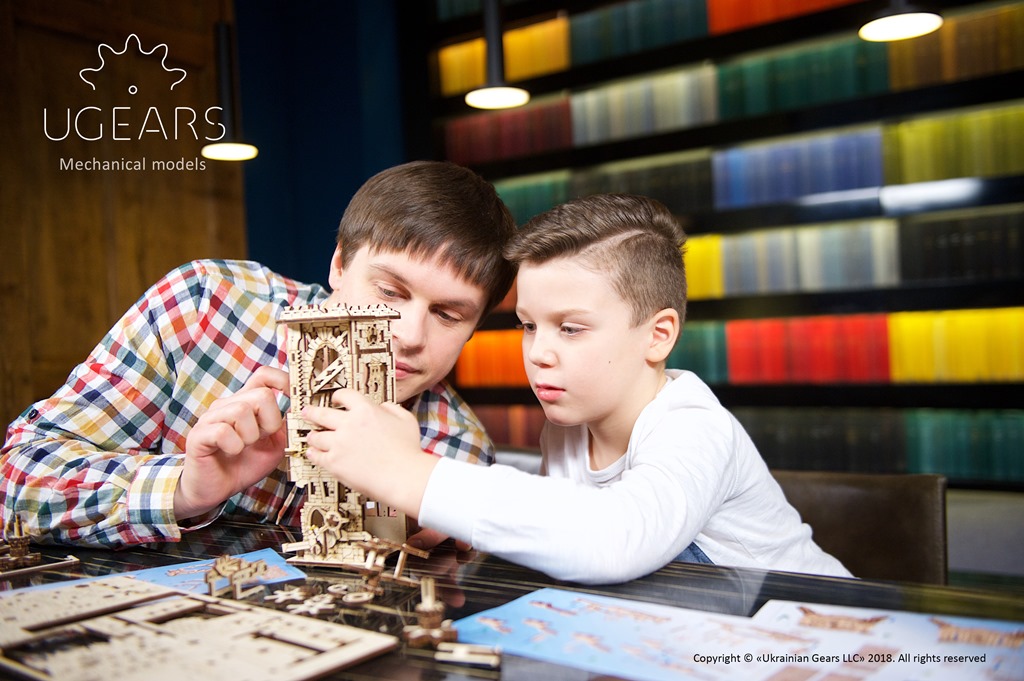 We are very happy to see that people of all ages appreciate our Educational Toys models. They literally unite generations. Ladies buy them for their boyfriends and husbands; grandchildren get our models to put them together with their grandparents. This is the best way to engage constantly busy moms and dads in playing together with their children.
Hand Made with Realism
In each of us is a hobbyist, a designer or just someone who likes to create something with their own hands and brings to an end. UGEARS' unique 3D mechanical Educational Toy / wooden jigsaw puzzle is the perfect way for young and old to get creative, challenging and having fun at home.
Whether truck, theater or tram – the range of UGEARS includes different model kits in different levels of difficulty. Beginners can best start with the 48-piece dynamometer. The more advanced can dare to the steam locomotive, in which 460 components must be assembled.
What all UGEARS models have in common is that they produce a mechanical movement after successful assembly. Turning on the cog wheel of the theatre sets the heroes of the drama in action so that they follow each other. The operation of a gear in motion can brought the tram in retro flair. Each model surprises with one or more features.
With the production of 3D mechanical puzzles / Educational Toys that update the idea of mechanical models in which every detail is in line with reality. Some of the models have their own modern prototypes; others are reproductions of original mechanisms.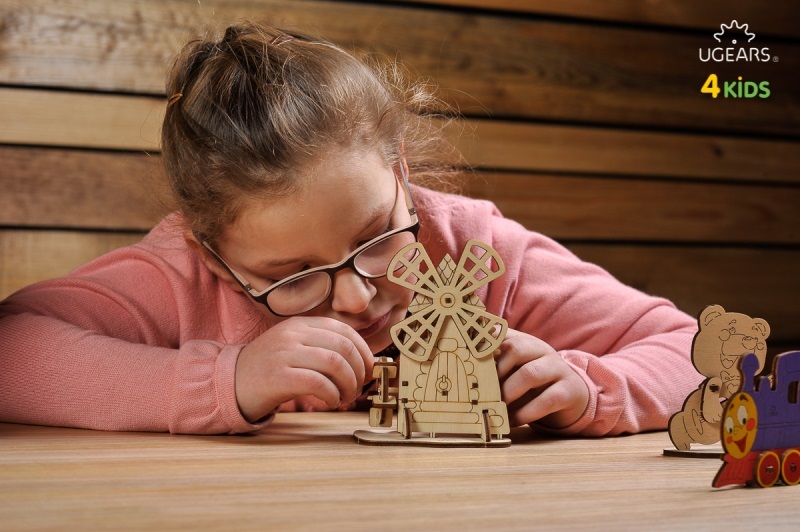 Some of our Educational Toys models draw inspiration from real-life mechanisms. UGEARS was launched in 2014 & they are the creator and manufacturer of unique self-propelled mechanical model. These kits designed for self-assembly without glue and made entirely of high-grade wooden material. The company has its own production in the suburb of Kiev, Ukraine. Today UGEARS offers more than 50 models of 3D mechanical jigsaw puzzles.
What distinguishes UGEARS from other contemporary puzzles?
"natural" – made of wood, each model is made of high quality ecologically clean plywood;
"no glue" – glue or chemicals are not required to assemble the puzzle. Every detail is precisely crafted, incredibly accurate and designless, without glue, making it easy to transform into a finished model. The way of connecting the components of the puzzle is the company's patent;
the individual elements of the puzzle are cut and ready to be assembled;
The patterns move -"mechanical" ;
What distinguishes UGEARS from other puzzles for self-assembly is that the heart of the mechanisms consists of different types of gears, bars, a pendulum. Taken together they make a unique moving hand-winding model. The mechanism on the move looks like a Swiss watch looking through the watchman's magnifying glass.
Many construction kits when assembled are just static models. Our models produce motion, are self-propelled and some of them can go up to 5 meters!
EDUCATIONAL:
About Ugears models are perfect for family projects through hands-on STEM learning. Each UGEARS Educational Toys model brings rewarding feeling of assembling with your own hands, inviting everyone into the awesome and cool world of mechanics. Assembling models is a fun and trending hobby for grown-ups and kids alike. It's great to understand mechanical, engineering and math concepts. Dedicated to teaching the craft of woodworking, with a hefty dose of humor and realism. UGEARS puzzling unites parents and kids, fathers and sons. It's unforgettable time which you share with your beloved ones making real things together.
The individual models are not just puzzles, putting them together in pieces reveals the potential of the idea of creating something real. The finished puzzle brings satisfaction to its creator when he sees it at the moment of the first move. The creators of the UGEARS puzzles hope that fun will become an interior decoration. Their mission is to give unforgettable moments to each member of the family from working together.
History of Timber Structures :
With the production of mechanical puzzles, two Ukrainians decide to recall the memories of mechanics in real life. Assembling the puzzle allows you to feel every element to observe the work of energy that does not come from an electrical cable. Joining the details carries forgotten knowledge and skills.
One of UGEARS' creators says in an interview that "if the models are fully assembled, the client will be deprived of the feeling of creation. In the assembly process there is an important "birth" moment when the model shows a spark for life. This is extremely exciting. "
Designing a new model takes from two to six months, and in a "crude" look. It may be ready for a shorter time, but the many improvements are far more time consuming. The laser outline of the plywood is made with an accuracy of +/- 0.1 mm due to the use of natural material. The first thing when the box is opened is to feel the smell of wood. Quality control is performed at each stage of production. UGEARS puzzles can be used for years, and then the structures are recycled without affecting the environment.
To date, About Ugears models are more than 30, including steam locomotive, tractor, timer, combine, trailer, tram, mechanical theater, mechanical box, engine, safe and more & continuing work on new designs for future models.
Each model carries a certain message and idea, the "tram" is the most romantic mechanism, while the "tractor" carries its magic and attraction in motion. UGEARS' models are art, they show us the beauty of mechanics (a sense of real movement) and make it more comprehensible.
The kit has everything you need to assemble the puzzle:
A set of high quality plywood boards that are laser-engraved;
Instructions with a detailed step-by-step assembly, as well as additional details;
Including toothpicks used as pins and pins, and bands that help to store energy, which in turn allows the models to move. Toothpicks do a great job and are little surprising,ey .
Also, there is no need to compare About Ugears models with toys, since the main buyers are people aged 25-40 who are passionate about design and modeling.