About Ugears India
Welcome to our online store in the India. As a contract partner for UGEARS LLC, we, Ugears India import the wooden construction kits of the UGEARS brand to India and distribute them to end customers as well as to commercial re-sellers.
How many of us play games on our tablets? It feels as if you pull a cable or twist a handle. While what your finger actually senses, is a smooth touchscreen. What do you think about an idea to actually feel, experience the real mechanics in action?
The project helps people to understand the principles of mechanics through the self-assembly of motion models.
These amazing 3D Self Assembly models are fun to assemble as well as educational. They can also serve as decorative pieces. Although, the kits come with clear step-by-step instruction, they can also be called puzzles as the challenge is always present. Inspired by steam-punk fantasy, the clear view of all the moving components, including gears and pendulums, creates a unique, unforgettable and fascinating look at everyday (and not so everyday) machinery.
Mechanical Models offered include Mechanical Box or Etui (business card holder, storage Box), Theater, Tractor, Trailer (for the tractor), Mechanical 20 Minute Timer, Dynamometer, Tram Line – Mechanical Town Series, Pneumatic Engine, Combine Harvester, Safe, Steam Locomotive with Tender, Railway Platform, Set of Rails with Crossing, Tanker, U-9 Grand Prix Car, Truck UGM-11, Set of Additions to the Truck UGM-11, Mechanical Flower, Combination Lock, Date Navigator, Fire Ladder Truck and Hurdy Gurdy (Musical Instrument) and many more.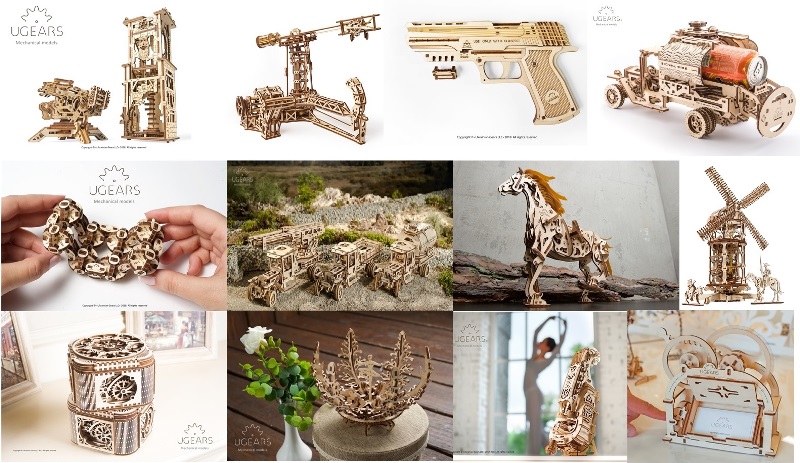 Ugears Coloring models, Easy to build, fun to color and play with, the children series provides great opportunity to spend some quality time with children. Curious mechanisms and flowers, clock, merry-go-round, airplanes and rockets, vehicles, ships, fairy tale characters, birds and pets, cute animals etc. Assemble easily without glue and toothpicks or special tools by following an illustrated color manual.
We do not (yet) have our own shop and initially only operate the webshop. Small but nice is the motto. Contact us if you have any questions – we are happy to help.